Buy Liquid Wax Candle Refills and Table Lamps in Spain – tel +34 677 222 799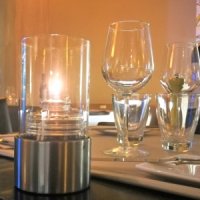 Do you have a bar or restaurant in Spain, and want to buy liquid wax candles?
Then you are at the right place!

Our company is called Surbakken and we are specialized in the sale of
liquid wax candles
and
table lamps
in Spain. We started over 15 years ago and are by now the main supplier of liquid wax candles in the country. We have all products from "TheBarBrand" available and ship them f
rom our bases in Barcelona and Alicante all over Spain.
Webshop VelasHosteleria.es
Our web shop VelasHosteleria.es is currently only available in Spanish, since we are selling in Spanish territory. Therefore we direct this article to the many English speaking bar and restaurant owners at the Costa Blanca, Costa de Valencia, Costa del Sol/de la Luz and Spain in general, that wish to buy candles and candle lamps.

The web shop is illustrated with plenty of product photos, so it should be pretty straightforward what products to order.
50 hour liquid paraffin cartridges go for only 1,99€ per unit and come in hostelry boxes of 36 refills. Our most popular candle lamps cost 6,99€ and come in boxes of 6 units.
Payment usually happens by credit card (VISA, MasterCard, Maestro, American Express) or by cash on delivery. As well you can pay by PayPal or make a bank transfer.
Promotion 5+1
With every order of 5 boxes liquid wax and paraffin candles (5 x 36) you get the sixth box completely free (1 x 36).
Free delivery 24/48 hours

Delivery time on mainland Spain is 24/48 hours. Delivery time for Menorca, Formentera and Ibiza is around 3-4 working days. Shipment in these sales areas is free from the first box of liquid wax and paraffin candles.


Order by phone – English spoken
The easiest way to make your order is to give us a quick phone call on +34 677 222 799. Of course we attend you in English.


Order by Whatsapp

Alternatively, you can send us a Whatsapp message in English to +34 677 222 799 with the following details:
- Complete delivery address & name of your establishment
- Delivery time
- Telephone number
Order online
Visit sales representative in Barcelona, Torrevieja, Orihuela Costa, Mallorca
In case your bar or restaurant is located in Barcelona, Torrevieja, Orihuela Costa or Mallorca, please contact us and our sales representative will pay you a visit. English spoken.